Welcome to Fish Drum: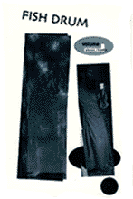 Fish Drum #11/12:
MEMORIAL ISSUE FOR FOUNDER ROBERT WINSON

This memorial issue for founder

Robert Winson is still available for $10. The double volume (166 pages), includes pieces by Philip Whalen, Anne Michaels, Alice Notley, Jessica Hagedorn, Miriam Sagan, Bruce Lamb, and dozens of other noteworthy poets and authors.


Including:

Walking, by Robert Winson

Suzi Winson, Editor




To get fish drum #11/12 on Amazon.com, this should work:



www.amazon.com/exec/obidos/ISBN=1929495005

To get Fish Drum directly from us:



Click here!