Welcome to Fish Drum: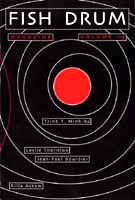 Fish Drum #14:
READ. THINK. READ MORE. CHUCKLE. PONDER....

Drop your Fish Drum in the bathtub. Buy another one. Order 12 as party favors. Recite several Fish Drum poems on public transportation in your best monotone. Notice how inexpensive poetry is.

This Fish Drum contains assorted mythic figures and insects, some with excellent posture, including: Rothko, Rilke, Basquiat, Mom, Buddha, Suzuki Roshi, and Jennifer. Also space, air, perfect subtle mind breaths, Zen dialogue, all live naked bald men, Rock and Roll, 2 dragons, 27 Devils, telepathic siblings, quark nuggets, deionized water, propylparaben, Red Dye #3, and fragrance.
F i s h D r u m # 14 appeared in August 99.



Suzi Winson, Editor

To get it on Amazon.com, this should work:



http://www.amazon.com/exec/obidos/ISBN=1929495021

To get Fish Drum directly from us:



Click here!