Welcome to Fish Drum: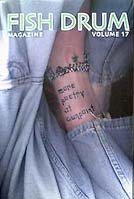 Fish Drum #17:
MORE POETRY AT GUNPOINT

This issue includes works by Ira Cohen, John Brandi, Miriam Sagan, Joan Logghe, Tom Zummer, David Meltzer, Brendan Connell, John Connell, Reuven Ben Yuhmin, and more.

It is now available at your local bookseller.



Suzi Winson, Editor




To get Fish Drum directly from us:



Click here!